Article and Video by Bruce Cheaney
Spur making a pair of custom spurs can take several days to make especially if they have a lot of silver mountings and tedious brands or what ever. This is a par of spurs I made and it took three days and two nights to get them made and engraved and shipped out to my customer. Everything had to go as planned in order to get these spurs completed by my deadline. I planned out each days work and what I would be doing that particular day and I am very pleased to tell you it worked out this time.
The heel band for these custom made cowboy spurs is 1 1/4″ in width and cut 9″ from end to end I like my bands to be long so they fit a boot heel correctly.  The spur shanks are 2 1/2″ in length and 1/2″ thick and by the time they are worked down on the belt sander/grinder the turn out just the right thickness.
The spur rowels are 3″ in diameter and 1/8″ thick with fifthteen spokes or what you might call teeth the rowels took at least six and a half hours to make really getting with it.  I engraved the rowels using my GRS Graver Mate which is an old machine but it still serves me well and does the job. The Glendo Corporation really makes good engraving equipment and it will last you many years of service.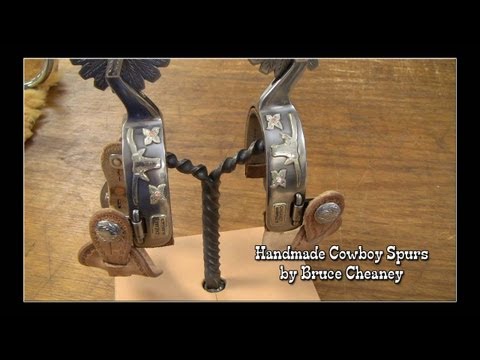 The custom spurs are very similar to an Adolph Bayers pattern that I always wanted to make so that's what I did, I have always studied Adolph's bits and spurs and his workmanship is what inspired me to become a bit and spur maker amongst other things.
I put together a short video clip of the process of making this pair of spurs and maybe you can see what all is involved in making a pair of handmade spurs.
Bruce Cheaney
Gainesville, Texas
Custom made cowboy spurs feature 3″ spur rowels and 2 1/2″ spur shanks with an 1 1/4″ heel band width. The spurs are nickle silver mounted with a steer head and flowers and a running R M brand. Completely handmade by Bit and Spur Maker Bruce Cheaney, Gainesville, Texas.
SpurMaking.com © 2014